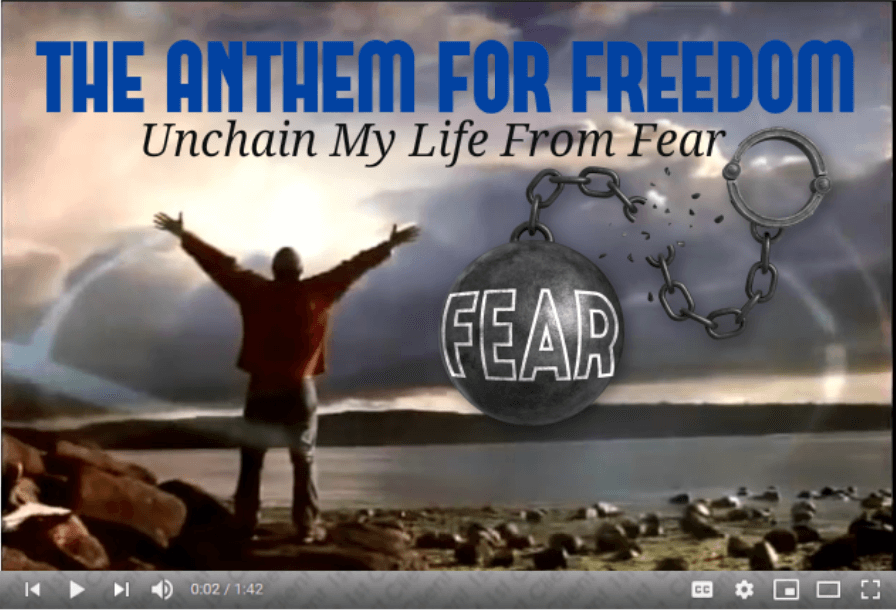 I wrote and produced The Anthem For Freedom to inspire me as I began my quest to develop The FearLess Project. I watch it at the beginning of each day to remind myself that fear must never dominate my life. Below is the narrative I wrote about the video lyrics and what they mean to me...
"THE ANTHEM FOR FREEDOM"
A personal journey to overcome my fears… and help others make fear irrelevant in writing their success story
By Ken Smith
Who am I?
Am I who others tell me I am?
Am I who success, or failure, has defined me to be?
Do you feel confident you truly know your inner self? We all seek to know, understand and, hopefully, like who we are. But who are you really taking your keys from? Are you basing your perceptions of who you are on what the world says about you, or how it acts toward you -- positive or negative? Are your successes or failures defining you -- constantly changing your perception – elated at the last success -- despairing at the next failure? Or perhaps you've had a long run of successes -- yet in the back of your mind you're secretly just waiting to be found out that you're not as capable as your accolades suggest.
Am I all that I will be?
Or am I all that I can be?
The moment you decide that you have achieved your potential for success – in business, in marriage, in sports, in any aspect of your life, at any age -- that part of your life will begin to atrophy and decay. It happens with civilizations and cultures (America take heed). It happens in business, in marriage, in sports -- it's a universal truth.
Only one antidote exists. Ask yourself… not the "I" that reflects the image others see, but the true inner "I"… as a business owner or manager, a spouse, an athlete, a retiree, whoever you believe you are today… ask yourself truthfully, "Am I truly all that I can be?"
Cherish and celebrate your innate wisdom to know… your innate honesty to see the truth -- that you, your business, your marriage, your career, your retirement, your life can be better – can be more...
There is still much to aspire to.
Deep down at the core of my being,
I found I am not who I am...
I am who I aspire to be.
We must recognize that the true "I" cannot be seen at the surface level. Too many layers, created from the judgments of others and our own personal fears, separate us from seeing with clarity the true "I" that lies deep within us at our core. Only when you penetrate these layers can you see the real truth -- that you are not who you may think you are today – at this moment. The "I" you see today is only a rough-hewn work-in-progress – a tantalizing suggestion of who you can be – if only you will aspire to the truth that is the true "I."
Beneath all the masks and facades…
with layers of camouflage and disguises stripped away…
naked and alone in the depth of my soul…
I am free… I am free… I am free.
In my brand strategy consulting practice over 37 years, I was constantly amazed at how the vast majority of seemingly successful people have such a fragile self-image of themselves as owners or senior executives -- and of their company's brand.
Corporations conduct study after study to find out what customers think of them, what employees think of them, vendors, industry peers, etc. Yet what they really should be doing is LOOKING INWARD to see who they truly are at their core. For the essence of a brand is its honest and transparent uniqueness, its inner truth that manifests itself in ways that provide irrefutable evidence of that truth.
And the moment you begin to strip away all the camouflage and disguises you create to protect yourself and compensate for an "I" you perceive to be weak, dangerous or unworthy… the moment you begin to aspire to be the corporation or person you know yourself to be… the moment you begin, in the depth of your soul, to cherish and celebrate the true "I"…
In that moment, you are wondrously and inevitably free… free to become all you aspire to be. From that moment, you are who you aspire to be!
For so long, I was lost in the world…
Defined by it…confined by it…
During the financial meltdown in 2008, despite 37 years in business and a fair amount of success, I seldom really felt comfortable in my own skin. I lost confidence. I was not confident that the successes were deserved. And I took the failures of that terrible time personally -- each a reinforcement that my fear of failure was justified.For 6 months I let the world define me. And I let myself be confined by my irrational fears. How much more could I have achieved? What could I have recognized earlier that could have prevented this terrible experience for my family and our valued and loved staff?
Always searching for the true "I"...
Who I am... as a parent... a spouse… a friend...
Who I am as a custodian of this earth...
A trustee of my heritage...
An evangelist of my faith…
When I look back honestly to those 37 years, I was continually questioning my place in the universe -- continually searching for an "I" with whom I could feel comfortable -- in every aspect of my life.
I was always looking past today to a better tomorrow...
Always full of hope... always without a workable plan...
Tomorrow was always going to be better. Yet I did not take control of my life with a proactive plan that would really change anything. I let my life control me much more than I should have. Talent and hard work got me successes, but what could I have achieved without so much fear?
Always confined by fear that imposed limits and borders...
Fear that seduced me with promises that tomorrow would be easier.
Fear of failure created boundaries that kept me from consistently stretching outside my comfort zone. Instead of seeking out and attacking new challenges, I let myself be complacent with my successes. There was always tomorrow. It would be easier then. I'm too busy now. Too tired. Too anything. Always tomorrow.
But everything changed when I looked inward and took responsibility for me.
That complacency led to a failure to keep growing, to understand and overcome my fears, to keep moving forward. Then one day when the financial meltdown hit, after lots of successes, the fear intensified. Everything suffered - including my extraordinary staff. My 7-figure payroll became a burden rather than a valued asset.I began to see losses where there had always been successes.

And, because I had not overcome my suppressed fears, and made myself and my company better every day, I could not recover in this new world for which I had not properly prepared myself or my company.So, recognizing a future I did not like to envision, we sold the business to a senior manager. For a couple of months, I moped and farted around researching and putting my foot in the water in some Internet business opportunities -- not really engaged.

I had not dealt with my fear of trying new things -- of accepting the possibility of failure.Then in late 2008 I had an epiphany. My wife and I brought my mother home from a nursing home where she had been for four months after a stroke. We had three frail, elderly parents living with us in our home (See the Elder Care section of this site) ) -- each requiring substantial care and attention.

It was extremely difficult -- especially for my wife. Marianne is a saint. And it is she who inspired me to take a hard look at myself, and take responsibility for who I am -- to commit to start attacking my fears head on with a new-found courage. Watching my wife attack her enormous caregiving challenge shamed me into action. And I'm so grateful to her for that.
I made fear irrelevant...
took massive, decisive action to take control of my life...
And discovered that I truly am who I aspire to be.
Adapting some of the tips learned from my collaboration with Dr. James Fadigan on the brain science of overcoming fear, I decided to make fear irrelevant in my life. I broke down tasks into small, achievable goals and proceeded to attack them with massive, decisive action -- to quickly achieve success and move on to the next task. It was exhilarating.
I took chances I never had before. I started putting myself out there without a safety net. The fears were still there. They never really go away. I just learned to manage them. Deal with them. Not let them confine me anymore.
I grew to accept failure, rejection or disappointment as a learning experience rather than a personal referendum on my worth. Amazing! 37 years to "get it." I never thought I was such a slow learner.I was beginning to feel the power of a FearLess Life.
To aspire higher is to live with consistent joy and anticipation...
And, in so doing, I found meaning in my life...
And now aspire to leave a meaningful legacy.
I had forgotten the sheer joy of continuous aspiration. Life tasted so much more flavorful. I was nowhere near yet where I aspired to be, but I visualized myself there every day.
And every aspect of my life had more meaning. I had formed LegacyLife International to fund and support initiatives that would make a difference – a meaningful difference – today, and as a legacy my grandchildren would be proud of.
It is time to take responsibility for who I am...
To know that action is the only true energy that will effect change…
That what I do today IS my future.
Massive, decisive action, unconfined by my fears, saved me. It gave my life the meaning it had lost over the years. And every day, even now, I commit anew to do everything I can today to keep moving forward because I have accepted the truth that whatever I do today is the future for me, my family and for those I'm privileged to reach with my story of hope and redemption.
Today, and every day, my job is to make who I aspire to be who I am...
I know my job. It is more clear to me each day, not so overwhelmed with irrational fears that silently, but powerfully, ruled my life every day. The person I aspire to be is so much more clearly visible to me now. Fear is a cloud that obscures the true "I." And every day I identify and take action, despite my fears, on the specific tasks that will move me closer to the person I aspire to be… to be that person today and every day.
My mission is to break free from the chains and limits fear imposes.
Fear will never define or confine me again.
Fear will never bar me from the life my family deserves.
Fear will never win.
I think of fear as a ball and chain that is shackled to my leg weighing me down… restricting free movement as I push forward. I visualize that shackle. I see it. I feel its constraint. I make it as real as possible in my mind so that I can also see and feel it release as I take action and overcome my fear. I see it. I know its weight. But I don't feel its burden or constraint as I push past the fear. I feel it separate from me and I can see it over there in a separate box I have constructed for it. I cannot kill it. I actually don't want to, because I know it will protect me when the fear is real and not irrational.
I simply and defiantly keep it in its box. It constantly struggles to reattach. But now I recognize it as it approaches. And my conscious brain alerts me to its intrusion so I can once again grab it securely and push it back into its box. It must never win.
I will not let it.
I have the strength.
I have the will.
I have the purpose.
I cannot be denied.
I am unchained from fear… forever.
I do not fear it any longer. It is something tangible I can see and deal with. I am a stronger person in every way because I have come to understand my fear.
I am a positive, forward-looking, ever-growing, ever-ageless individual, spouse, parent, grandparent, citizen, partner and mentor. I am unchained from fear… forever…
and I'm committed to helping others feel the freedom I feel today.
I am free… I am free…
I am free.